Girdle with Front Zipper
Girdle with Front Zipper
C-Section & Natural Birth OK
Easy-to-Fasten Front Zipper
Padded Zipper
Firm Compression
Full Rear Coverage
FDA Registered Medical Device
This Bellefit Postpartum Girdle with Front Zipper is ideal for recovery after C-Section or Natural birth and is comfortable for women of all body shapes. Reduce your Postpartum Swelling Faster & Diminish Complications. The triple-layered, reinforced front panel and four individually-sewn back panels evenly distribute tension for medical-grade compression and support. The front zipper is conveniently located and accessible to make it quick and easy to put on and take off.

Watch the following video to see how moms wear their Bellefit Girdles.
Directions
Begin wearing after birth on the day that you are discharged from the hospital. It's optimal to begin wearing Bellefit right after birth; however, you will still see results if you begin to wear your girdle at any time during the first 6 months after the delivery.
Here's why: Still present after childbirth for up to 6 months are hormones secreted during pregnancy. These hormones, Estrogen, progesterone and relaxin loosen the abdominal muscles, the pelvic structure and supporting ligaments and joints. Bellefit works together with your body's natural process of recovery.
Smart, sophisticated, and supported. That's how new moms feel when wearing this Bellefit Girdle with Front Zipper. Designed to prevent pinching while maintaining a comfortable, custom fit, it has hook-and-eye closures with additional padding. With so many responsibilities to juggle, struggling with a hard-to-wear girdle shouldn't be one of them. Bellefit makes postpartum weight loss effortless.
Girdle with Front Zipper Benefits
Reduces pregnancy-related excess weight.
Supports and compresses your abdominal and lumbar regions.
Improves and supports your posture and relieves back pain.
Encourages a speedy recovery after childbirth.
Strong support helps you increase your mobility.
Helps support & recover your C-Section Incision.
Helps close the abdominal gap after pregnancy, also known as diastasis recti.
Girdle with Front Zipper Uses
Postpartum.
Everyday & Night Use.
Back Support.
Natural Birth.
C-Section.
Girdle with Front Zipper Features
Front Zipper with anti-pinch protection and padding.
Powerful compression panels to control & flatten tummy.
Back support panels to stabilize & ease back pain.
Inner spiral boning to shape curves & prevent rolling.
Easy crotch opening with 3 rows of adjustable hooks to accommodate heavy flow pads.
Breathable & flexible compression fabrics.
Rear-end reinforcement to keep corset in place.
Hides back bulge and muffin top.
Full coverage to minimize panty lines
Girdles & Corsets Sizing Chart
| GIRDLE SIZE | YOUR WEIGHT NOW (LBS.) | HIPS NOW (INCHES) |
| --- | --- | --- |
| | | |
| | | |
| | | |
| | | |
| | | |
| | | |
| | | |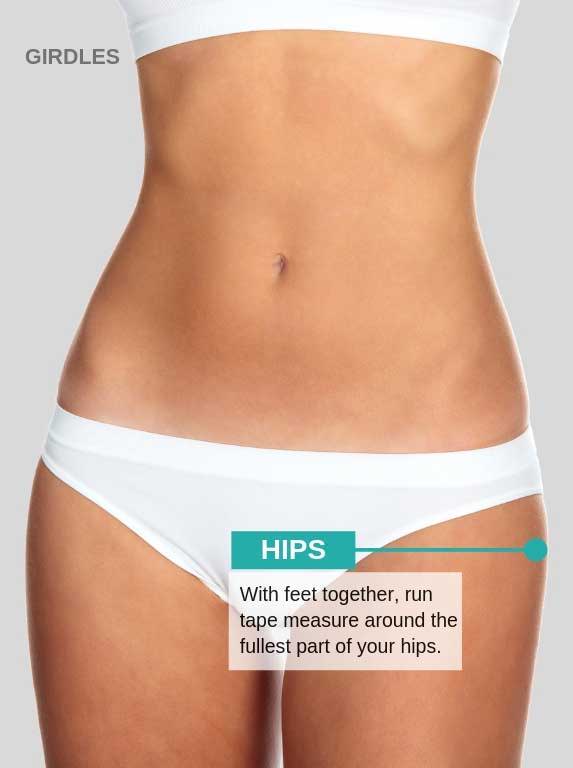 How to Choose Your Ideal Style:
How to Find Your Size:
How to Find Your Size:
Find your current weight & hip range on the chart.
If less than 36 weeks, add 1 Lb for each remaining week of pregnancy. 1 week = 1 Lb.
Your ideal size will be based on your approximate weight at the end of your pregnancy.
Find your current weight & hip range on the chart.
Your ideal size will be based mainly on your current weight (your weight now).
My weight, hips and pre-pregnancy jean size don't match on one size, how do I choose my size?
If none of your measurements match, then choose your size based on your current weight.
If pregnant, make sure you add 1 Lb/ week to your final weight to select the correct size.
Why is the chart saying I need a bigger size than I wear in my regular clothing?
Bellefit Girdles are made with strong compression and our sizing runs small. Our sizes are NOT the same as your regular clothing or underwear. If you are normally a size Medium, you most likely won't be a size Medium in Bellefit.
Do I choose my size based on the weight I want to be?
No. You must choose a size based on the weight you are NOW. This is the only way to make sure your girdle fits you well after giving birth. If pregnant, make sure you add 1 Lb/ week to your final weight to select the correct size.
I'm really tall, should I size down?
If you are tall (5'9" +) it's possible that you can choose 1 size smaller than the suggested size. To be sure, call or message us for sizing help.
I gained more than 30 Lb during pregnancy, how do I choose my size?
Choose your size based on the weight you are NOW. You may need more than 1 size to complete your recovery. If you purchase a bundle select 1 size based on your current weight and 1 size smaller for later on.
Should I choose my size based on my pre-pregnancy jean size?
No. Choosing your size based on your jean size only will give you the wrong Girdle size. The most important measurement to choose a size is your weight. Refer to "How to Find Your Size if You're Pregnant/Postpartum"
How to Wear
How to Wear
How to Wear your Bellefit Corset®
Unzip the front panel and hook the groin closure.
Sit down on the edge of your bed and step into the girdle one foot at a time.
Stand to pull it up as far as you can.
Lie on your back to fasten the vertical hook closure. Start with the bottom hook and work your way up.
While laying down zip up girdle
Stand up, center the front panel and adjust until comfortable.
Medical Conditions
Medical Conditions & Their Medical Codes
Doctors recommend Bellefit compression girdles and corsets for the treatment of these medical conditions which are most commonly experienced by women after childbirth.
O71.89 DIASTASIS RECTI
The rectus abdominis muscles are found on the abdomen and are commonly referred to as the abs or "6 pack" muscles. There is a small band of tissue, called the linea alba, that connects the right and left side of the rectus abdominis muscles and is located at the midline of the body. Diastasis recti is a condition in which there is a weakening of the linea alba allowing for an abnormally large separation between the rectus abdominis muscles. This widening of the linea alba allows for bulging of the abdomen and an appearance of still appearing pregnant after delivery.
K40-46 HERNIA
A hernia is the result of an organ or tissue protruding through an opening in the muscles. While a hernia can occur in many areas of the body, they most commonly develop in the abdominal and groin areas during pregnancy. Developing a hernia during the course of your pregnancy is not always an immediate concern; in fact, most physicians recommend waiting until after you give birth to have the hernia treated. However, hernias rarely, if ever, go away on their own and must eventually be treated. Left untreated, a hernia will progressively worsen in severity and eventually become more serious can eventually lead to life-altering complications.
M54.5 ACUTE OR CHRONIC PAIN IN THE LUMBAR OR SACRAL REGION
Back pain, especially in the lumbar or sacral regions, is a common condition experienced during pregnancy. In fact, nearly 1 out of every 2 pregnant women can expect to experience acute or chronic pain the in lumbar or sacral regions of the spine. The pain in these areas is typically temporary and a direct result of pregnancy-induced weight gain and hormonal changes, and often contributes to pain, sleep-disturbances, and other discomforts experienced during the course of the pregnancy.
M25.551/M25.552 HIP PAIN R/L
Hip pain can be debilitating — especially when you are tasked with carrying a baby. The extra pressure and strain on your joints causes hip pain that pregnant women often misdiagnose and neglect to seek treatment for. Hip pain comes from various sources during pregnancy. Most women start to develop the joint pain during the second trimester, right as you start to develop a "baby bump." The change in your walking style, the loosening of your ligaments holding together the sacroiliac joints, and sleeping on your side later in pregnancy all can add to hip pain. Another cause is pressure on your sciatic nerve, formally called Sciatica. Sciatica can cause pain, numbness, and/or tingling in the buttocks, hips, and thigh. This is where appointments with your physician are especially useful, as Sciatica can lead to serious complications.
O26.7 SUBLUXATION OF SYMPHYSIS (PUBIS) IN PREGNANCY, CHILDBIRTH and PUERPERIUM
Subluxation of symphysis is also known as symphysis pubis dysfunction (SPD). This is a condition that causes excessive movement of the pubic symphysis. The symphysis is a midline, nonsynovial joint that connects the right and left superior pubic ram. Because of the misalignment of the pelvis, pain is associated with this diagnosis. Basically, this joint holds the right and left sides of the pelvic muscles together. When this joint becomes soft, pelvic muscles and bones move more freely. With the weight of a growing baby, this can become a painful condition.
O70.0-O70.4 PERINEAL LACERATION DURING DELIVERY
The perineum is the tissue that is located between the vagina and the anus. There are layers to the tissue being skin, subcutaneous tissue, and the pelvic floor muscles. The pelvic floor muscles are important muscles in regards to the passing of stool and urine. During vaginal delivery, the perineal tissue is stretched with the passing of the baby, mainly the head and shoulders, which can lead to tears of the perineal tissue. There are different grades ranging from 1 to 4 of perineal lacerations. Grades 1 and 2 are most common. Grades 3 and 4 are more severe with tearing of muscles and the anal sphincter. An episiotomy is an intentional perineal laceration made by the physician at the time of delivery. This was performed routinely some number of years ago, but is no long a routine procedure. Episiotomies are usually performed if there is concern for grade 3 or 4 perineal laceration or if there is concern to deliver the baby quickly.
N81.2 INCOMPLETE UTEROVAGINAL PROLAPSE
The uterus is held in place by pelvic ligaments and muscles. The muscles can become weak or stretched out leading to a lack of support for the uterus. When the muscles become weak, the uterus may sag or descend from its normal position into the vagina. A uterovaginal prolapse is classified by its stage. A complete prolapse means part of the uterus has slipped so far that it protrudes from the vaginal opening. The difference with an incomplete uterovaginal prolapse is that the uterus becomes partially displaced into the vagina, but it does not protrude out.
R10.2 PELVIC AND PERINEAL PAIN
The pelvic region of the body is the lowest part of the abdomen between the hip bones. The perineum in women refers to the area between the vagina and anus. Pelvic and perineal pain involves discomfort in either or both areas. Because the pelvic area and perineum are located near various organs, nerves, and muscles, pelvic and perineal pain is very common in women. The pain may come and go or be constant. The quality of the pain may vary based on the cause. The pain may be sharp, burn, or ache. Depending on the cause of the pain, symptoms may worsen when you move or use the bathroom.
R10.30 LOWER ABDOMINAL, INGUINAL, GROIN PAIN
Lower abdominal, inguinal, and groin pain is experienced due to the stretching of ligaments around the womb. As the womb becomes larger to accommodate the baby, the ligaments that hold the uterus in place must stretch. A certain ligament known as the round ligament is the culprit of your pain. This ligament attaches the front portion of the uterus to the groin. Normally, this ligament contracts and relaxes slowly when you sneeze, cough, or make rapid movements. During pregnancy everything speeds up and more weight is applied to the ligament. Due to the enlarging of the uterus during pregnancy, the round ligament is stretched and contracts more quickly, therefore causing pain.
Shipping
Domestic Free Shipping
Fast Same-Day Shipping on Weekdays.
Please allow up to 7 business days for your order to be processed and shipped out from our warehouse.

Free shipping on all USA orders over $65.
View your Order Status 24/7 when you create an account at checkout.
Alaska, Hawaii and Puerto Rico are eligible for free shipping.
APO/FPO Military addresses are eligible for free shipping.
All orders will be issued a USPS or FedEx tracking number.
Tracking numbers will be emailed when your order is shipped by Bellefit.
USPS Priority mail estimated delivery time to most locations in the USA is 2-3 business days. Some states may take more than 2-3 business days.
Bellefit does not ship on Weekends or on Federal Holidays observed in the USA.
Expedited delivery services do not qualify for free shipping.
Offer is not redeemable for cash or store credit.
Free shipping value cannot be used as credit towards International and/or expedited shipping costs.
Bellefit is not responsible for replacing orders shipped to an address entered incorrectly at checkout.
International Shipping
Please allow up to 7 business days for your order to be processed and shipped out from our warehouse.

What is APC Logistics?
APC Logistics uses USPS for the International transport of packages. When you package arrives in your country, the package is usually transferred to your local postal carrier, or carriers such as Fedex or UPS for last mile delivery. Delivery times may vary depending on your local postal service and customs procedures. Bellefit is not responsible for customs delays or your local postal service timeframes. If time is of the essence, we recommend that you use Fedex as your shipping option at checkout.
International Shipping Details
Please allow up to 7 business days for your order to be processed and shipped out from our warehouse.

Bellefit ships pregnancy girdles and other body shapewear for women internationally using USPS Express Mail International (10-15 business days delivery time estimate).
Bellefit provides our customers with FedEx International shipping for expedited orders (1-3 business days guaranteed).
To calculate your shipping cost/options add your products to the shopping cart and enter your shipping address.
When ordering from Bellefit, the amount paid at the time of purchase takes care of the International Shipping costs, however, the recipient (you) is the responsible importer and must comply with all laws and regulations of the country of destination. This includes: Customs Duty Charges, Import taxes, Clearance fees and other local/municipal/state fees in the destination country.
Although US Express mail estimates a 3-5 business days delivery, some delivery time frames will be longer depending on the destination country's customs process. Bellefit is not responsible for customs delays or any other delays that are beyond our control.
Shipping Fees are not refundable under any circumstances. Any exceptions are at Bellefit's sole discretion.
All shipments will be issued a USPS or FedEx tracking number. Tracking numbers will be emailed when your order is shipped by Bellefit.
View your Order Status 24/7.
Bellefit does not ship on Weekends or on Federal Holidays observed in the USA.
Free shipping promotion value cannot be used as credit towards International shipping.
FAQ
Bellefit Corset Frequently Asked Questions
Women Wearing Bellefit Postpartum Girdles
Bellefit Results
Total 5 star reviews: 53
Total 4 star reviews: 7
Total 3 star reviews: 5
Total 2 star reviews: 0
Total 1 star reviews: 0
92%
would recommend this product