Pregnant? There's an App for That!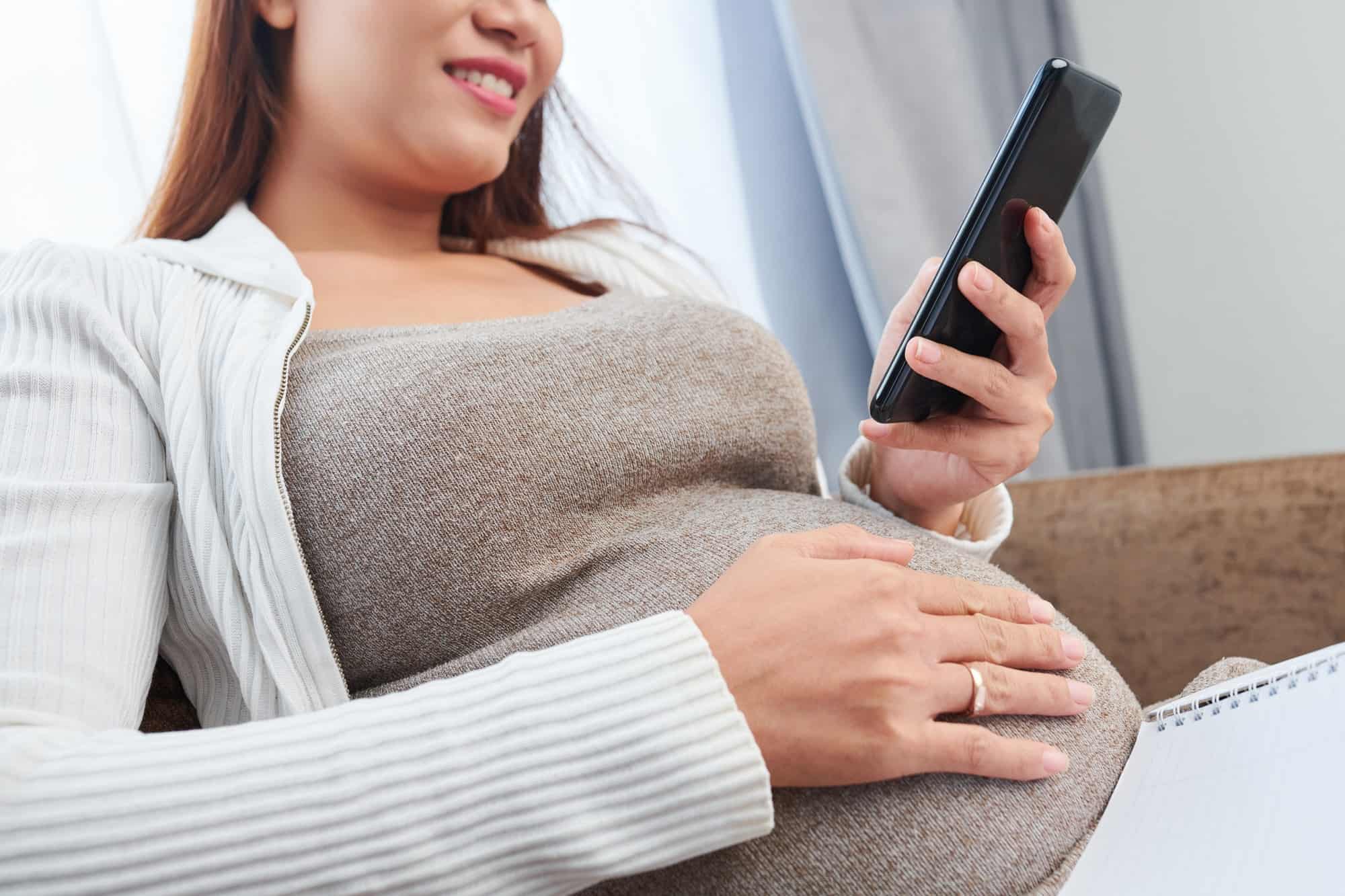 In this day and age, women can manage the many ins and outs of pregnancy with the touch of a button. No longer do you have to scramble through note pads and papers to try to remember Doctor's appointments, keep track of pregnancy progress or even manage your contractions. With the introduction of iPhones and apps, staying organized (and well informed) during pregnancy is easier than ever before. Here are some of our favorite apps to use during pregnancy:
What to Expect
'What to Expect' is one of the most complete pregnancy apps available. Heidi Murkoff, author of the world's best selling pregnancy book, What to Expect When You're Expecting, brings moms a day-by-day and week-by-week guide through their pregnancy. The app is easy to navigate, user friendly and offers a variety of features such as:
Daily tracker shows your week and day of pregnancy, baby's development measured in fruit sizes, and countdown to your due date.
Weekly videos, personalized tips, and week-by-week information help you understand your changing body and your baby's development.
Active and supportive community makes it easy to meet Moms due in the same month as you.
Photo journal to capture moments each week that create a visual memory of baby's journey.
Weekly inspiration and shareable milestones make it easy and fun to celebrate your little one's progress with family and friend.
The only app that tracks your pregnancy as well as your other children in one place.
Syncs photos, content, and preferences across your devices.
This app is available for iPhones, iPads and best of all, it's free! Click here to get the app.
My Labor Bags
This app has been called 'The ultimate bag preparation tool for your family' and it really is! It is a complete guide and tracker to help you get yourself and your family ready for the big day. My Labor Bags is extremely flexible and easy to use with 3 primary labor bags: Mommy's Bag, Daddy's Bag & Baby's Bag. Some of its features include:
Pre-loaded with nearly 100 of the must-have items preloaded to help get you started!
2 full sets of labor bag databases. (Default & Custom)
3 Individual Labor Bags: Mommy's Bag, Daddy's Bag, & Baby's Bag.
Convenient "All-Bags" button allows you to manage all of your labor bags in one view.
Manage any item's Description, Location, Cost, Quantity, Packed Status and Notes!
MyDueDate, the powerful due date information extraction tool provides, Day of Week, Time Remaining in Weeks & Days, Pregnancy Week, & Trimester.
This app is available for iPhones, iPads and it's FREE Click here to get the app.
Contraction Master
The Contraction Master app is the easiest and most accurate way to time your contractions. Just tap once at the start of the contraction and tap again at the end. Contraction Master automatically keeps track of the start time, duration, strength, and frequency of each contraction. At any time, you can switch to the History screen to see a log of all contractions that have been timed. When contractions are close enough together and long enough Contraction Master will automatically alert you that it's time to go to the hospital and even display a button you can tap to call your Ob/Gyn! If you want to share your contraction history with your doctor or nurse, Contraction Master makes that easy by allowing you to email it at anytime.
This app is available for iPhones, iPads and it's $1.99 Click here to get the app.
Baby Names by Winkpass
Baby Names by Winkpass is one of the best baby name apps out there. It has a simple and intuitive interface and includes a massive database of more than 25,000 names along with their meanings and origin. You can easily browse names by origin, popularity, alphabetically and by gender. You can also save a list of your favorites and share it across your Social Media.
This app is available for iPhones, iPads and it's absolutely free! Click here to get the app.
Positive Pregnancy
The Positive Pregnancy app is a guided meditation audio program intended to help expecting mothers become deeply relaxed and focus on a positive and successful pregnancy. It can be listened to at any time during your pregnancy and its relaxation techniques, visualizations and positive affirmations ensure you have a more comfortable, natural and enjoyable pregnancy. Benefit associated with guided meditation during pregnancy include:
Boosting your energy and well being.
Deepening your sleeping patterns.
Reducing physical discomfort.
Building a connection with your baby.
This app is available for iPhones, iPads and it's $2.99 Click here to get the app.
Baby Kicks Monitor
From about 28 weeks or when you feel your baby's kicks regularly, your doctor may suggest that you keep track of the kicking daily to make sure that your baby is doing well. Baby Kicks Monitor will record the start date, duration and times of kicks of each test with an easy to use interface. When the kicking reaches 10 times or the time reaches 2 hours, the kick session will stop automatically. If you wish to redo the test or end the test, you can press the X button in the upper-right corner to stop it. Other great features include:
Share sessions or one individual kicking test with your doc or friend by email.
Continue the kicks counting where you left off in the condition that you make a call or play other apps while doing the kicking session.
Input your last menstrual period, Baby Kicks Monitor with show your Delivery Due Date and the days remains to that big day.
Help documents to provide you more information about fetal movement.
This app is available for iPhones, iPads and free for a limited time. Click here to get the app
mPregnancy – For Men With Pregnant Women
Men tend to be a little sensitive to the realities of pregnancy that their partner is going through. This app is created to bridge that gap and keep men in the loop in terms that they can relate to. mPregnancy contains useful facts for men of before and during pregnancy, not only about the baby but also about what is going on with your partner and yourself. Men will learn about making their partner's pregnancy a pleasant experience. It contains great illustrations of how the baby develops and describes the size in terms that men understand, e.g. similar to the size of a football, or a bottle of beer. Other great features include:
Frequently Asked Questions (FAQ) which among other things lists foods that are not safe to eat during pregnancy
A Gestational Age Tracker trimester
Days Left of Pregnancy Tracker
And explanations of all the weird counting tricks that are used during pregnancy
This app is available for iPhones, iPads and it's only $2.99 Click here to get the app.
Having a healthy and safe pregnancy is something that all expectant moms want. The apps we suggest above are to help you stay organized and have daily insights to your journey through pregnancy. You should always consult with your doctor about your prenatal care, decisions and advice in regards to your pregnancy.
Jul 12, 2016

Category:

News