Learn How the Best Pregnancy Belly Band Can Support You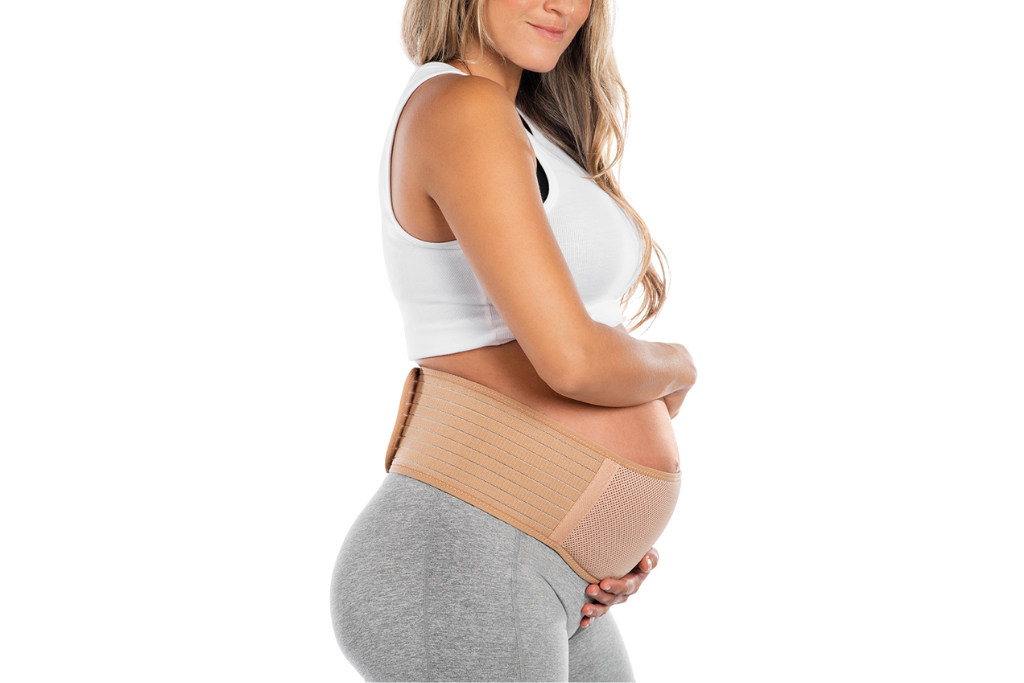 Pregnancy is one of the most special– and most challenging– experiences you'll have in your life. Whether you enjoy 40 weeks of predictable appointments or have an unusual pregnancy, it's likely you'll experience some discomfort.
Carrying your baby (or babies!) in your belly most commonly causes strain to your pelvis, abs, hips, and back. Many moms-to-be experience pelvic floor problems and serious back pain– especially during the third trimester.
That's why we're taking the guesswork out of finding comfort during your pregnancy.
The best pregnancy belly band provides stabilization and compression, supporting your lower back & abdomen in the process. Learn how to pick the right one now.
Are you curious about finding clothing for your body postpartum too? Read our guide to postpartum clothing here.
Finding the Best Pregnancy Belly Band: Key Features
Many brands sell their own version of belly bands, but there are only 3 main types. Most bands are classified as:
Classic belts aka single strap belts.

These belts are designed to lessen the load on your back without being too bulky. You can easily wear one under your clothes.

Added support belts aka extra-supportive belts.

These include an additional strap along the top of the belt to take even more weight off your back.

Prenatal cradles aka cradle maternity belts.

These belts use criss-crossed shoulder straps to distribute your weight evenly between your back and shoulders to give you ultimate support.
The right pregnancy belly band for your body will depend on how you carry your weight and where you feel the most discomfort. Every pregnancy needs something different– that's the beauty of this journey.
You'll also want to consider how much you care about your belt's material, profile/visibility, and the price point.
Pregnancy Belly Band Materials and Breathability
You have many choices when it comes to what your maternity belt is made from, but you'll typically encounter 2 types of blends:
Medical grade compression garments

consisting of polyester, spandex, and elastic blends. These fabrics are more breathable, but typically don't offer maximum support.

Neoprene garments

consisting of mostly neoprene and small amounts of other synthetic rubbers. These fabrics tend to be heavier and less breathable, but give you firm, snug support.
The best pregnancy belly band material for your body will depend on your needs and your environment. Some women find one material is most comfortable at home, while another material provides the support they need during their workday.
Consider any skin sensitivities you have, the amount of support you need, and how warm or cold your environment is when purchasing. If you ever feel your maternity belt is squishing, constricting, or squeezing, it's too tight.
Do You Need a Discreet Belly Band?
As a rule of thumb, you get 1 of 2 choices when it comes to low-profile maternity belts:
Extremely discreet belly bands

are also the least supportive. If you can hide it under your clothes, it will be extremely breathable… but most likely not very supportive.
Extremely bulky belly bands

are also the most supportive. You may not be able to hide the extra straps and buckles under your clothes… but your discomfort will almost vanish.
And sometimes the best pregnancy belly band is the least bulky, depending on your day.
Maybe you need a discreet option to go with a specific article of clothing. Or maybe bulky straps would be a risk to your workplace safety. Whatever the reason, consider if you'll need your maternity belt to easily hide under your clothes.
What's a Reasonable Price Point?
Finally, you'll need to consider your budget. While conventional wisdom says that you get what you pay for, you must also remember that celebrities and brands sometimes add a huge mark-up to basic products. We recommend considering these 3 price points:
$30 or less

is usually a good price for a classic, breathable, spandex-blend belt. Lightweight bands in this price range are usually adjustable for use throughout your pregnancy.

$31-$50

is usually a good price for an added-support belt. Extra-supportive belts in this price range are also typically adjustable for use throughout your pregnancy.

$51-$75

is usually a good price for a full-support prenatal cradle. Cradle belts in this price range are typically adjustable, but also come in various sizes to ensure the best fit.
Spending more than recommended for each type of belt isn't necessarily a bad thing, though. Some pregnancy belly bands do have proprietary features backed by science. But others are expensive simply because of a celebrity endorsement.
Determine your needs and compare a few top-rated belts to choose the best pregnancy belly band for your budget. And if you want to find the best postpartum girdle to go with your belly band, read our article on the best postpartum girdle here.
Only You Can Decide Which is the Best Pregnancy Belly Band for You
As you know, every pregnancy is different. Even if you have at least one child already, your next pregnancy may present new experiences. For this reason, it's impossible to name 1 product as the absolute best for every single pregnant woman.
Anyone claiming otherwise is just trying to sell you something.
Trust your judgment when you're shopping. Try not to purchase one until you feel like you need it– otherwise you may purchase the best pregnancy belly band for a symptom you don't have! Wait until you feel the need for additional support, and then buy the best product for that symptom.
Are you looking for more help with pain during your pregnancy? Read our guide to lower abdominal, inguinal, and groin pain during pregnancy here.
Feb 23, 2022

Category:

News