Body Wraps After Pregnancy: A Great Combination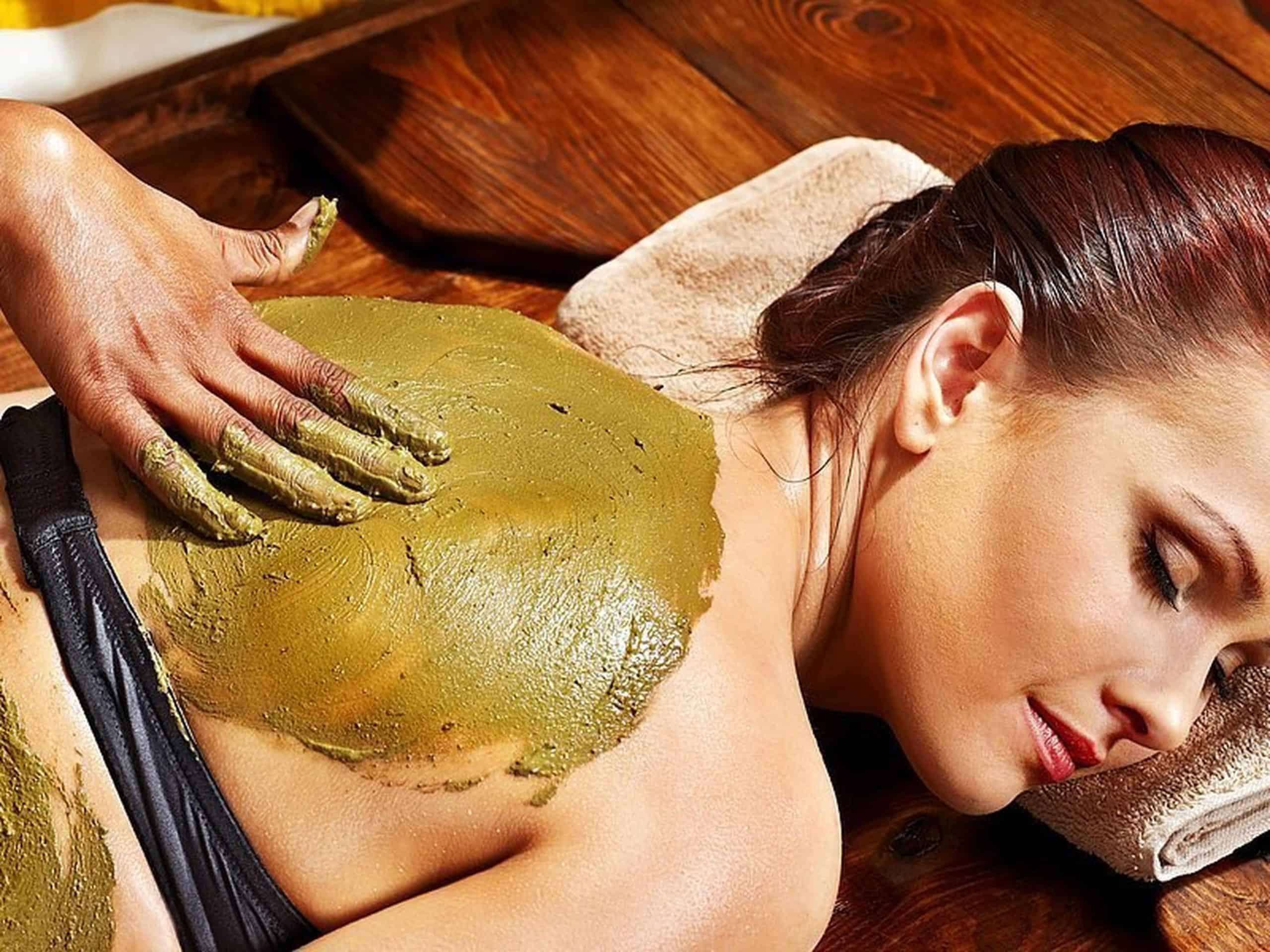 Body wrapping is a popular spa technique that involves skin masking with clay, ground herbs, botanical extracts, seaweed, algae, or honey to detoxify and nourish the skin. After the application of the mask, you're swaddled in plastic and cloth bandages to encourage the natural heat from your body to open your pores and allow the benefits to soak in.
While there isn't any evidence to show that these treatments promote weight loss or effectively remove any toxins from the body, it's an excellent self-care practice that can help new moms reduce stress and feel rejuvenated.
In this article, we'll discuss how you can achieve the benefits of a luxurious spa treatment into your own home, along with some tips on shopping for the best postpartum girdle that will ultimately be the best support recovery after pregnancy.
Body Wraps At Home
You Should NOT Body Wrap During Pregnancy
During pregnancy, body wraps — whether from a spa or home-made — are not recommended.
Pregnant women should not wrap the midsection to seek to constrict the belly. Your uterus is expanding for a growing baby, and you should not add any tension to the midsection.
Along with hot showers, whirlpools, or anything that can increase the core body temperature, body wraps with their invariably heat component are not appropriate for pregnant women.
Increased body temperatures can bring about a miscarriage or harm the baby. High heat environments are to be avoided without question.
How To Make Your Own Body Wraps At Home
Sometimes it's not practical to get to the spa as often as we'd like — but it is possible to treat yourself a luxury spa treatment at home.
You can either purchase pre-made body wrap kits or mix up your own with simple ingredients. Just make sure, when you're shopping for a pre-made kit, that it doesn't include any nasty ingredients. As a general rule, if you can't pronounce it — skip it.
To get the best benefits from your wrap, jump into a warm shower and exfoliate.
Exfoliation scrubs off dead skin and reveals soft, supple, rejuvenated skin. The heat from the shower will open your pores to allow the ingredients of your wrap to sink into deeper layers.
Recipe 1: Green Tea Clay
1/2 cup loose leaf green tea or matcha powder
1 cup bentonite powder
3 – 5 drops of peppermint essential oil
Mix these ingredients with water to form a mud-paste. Don't use any metal utensils as it affects the quality of the bentonite powder. Incorporate all the ingredients with water to ensure there are no powder-pockets. The mixture should be thick and apply smoothly to the skin.
Apply liberally to your belly, cover with plastic wrap, and then use a fabric belly wrap or belly band sinch the stomach. Leave it on for 20 – 40 minutes before washing off.
Recipe 2: Epsom Salts And Floral Herbs
1 cup Epson salts
2 cups hot chamomile herbal tea
1 tablespoon of rosehip oil
3 – 6 drops of rose essential oil
Mix the ingredients until the salt partially dissolves. Take a cotton cloth and soak into the water that has cooled slightly but is still warm and wrap it around the belly. Next, cover with plastic, and then with a thick belly band for one hour.
Recipe 3: Papaya And Honey
1 cup fresh papaya puree
5 tablespoons of unpasteurized honey
Mix these ingredients together and massage onto your belly and cover in plastic. This mixture is a bit messy, so you may want to use a thicker towel or cloth around the waist to make sure the mask stays on your belly and off your floor and furniture. Set your timer for 20 minutes and wash off in the shower.
Post pregnancy, a body wrap treatment will feel soothing and may give the impression of a slimmer body. However, wraps do little to actually support a new mother's body.
The most benefits you can get from these wrap treatments includes softer, nourished skin, and some deserved you-time.
While these spa treatments are delightful, there is a better postpartum recovery option that can help you gain your body back after giving birth — postpartum girdles and corsets.
Do Belly Wraps, Binders, And Post-Pregnancy Corsets Work?
Absolutely, there's something to say about compression therapy for recovery.
Belly binding by wrapping fabric around the woman's midsection after delivery has been practiced throughout many cultures for generations. It relieves pain and offers gentle support to the pelvis, back, and abs without adding too much constriction.
Postpartum wraps can come in various styles — from traditional, wide cloth-like bandages that are wrapped multiple times around the torso to more padded fabrics held together with velcro straps.
A faja is Spanish for a 'girdle' style that originated in Colombia to reduce the swelling and restore the elasticity of the skin after abdominal surgery. In Japan, mothers use a sarashi, a bleached cotton cloth that's wrapped around the waist after childbirth.
After delivery, your hospital may even provide you with a belly belt to relieve pain and give you added comfort. However, these aren't the best garments for your postpartum recovery.
The best result in combo with spa-treatment body wrapping comes from a high-quality post-pregnancy girdle.
Girdles, abdominal binders, and corsets explicitly designed for the postpartum body offer a superior level of compression and comfort.
The structural failure of belly wraps is that it tends to require a lot of refastening to keep the level of compression high. For moms on-the-go with a new baby, you don't have time to adjust your garment constantly. Postpartum corsets girdles and corsets offered by Bellefit are designed to deliver medical-grade compression day and night with 3 adjustable hook straps and breathable, flexible fabrics.
Another feature in which girdles excel in is that it's discreet under your clothing. The Bellefit Girdles come in three panty-style options and eight designs to suit your style, all virtually seamless under your clothing.
No Garment Or Spa Treatment Will Magically Shed Fat
Contrary to ads you may encounter, there are no garments or spa treatments that will melt the pregnancy weight off of you. Healthy weight loss involves managing your stress levels, eating a well-balanced diet, and exercise.
That being said, waist training can assist you in getting back into your health routines sooner by providing your abdominal muscles and lower back support and easing pain.
Here are some of the ways Bellefit postpartum girdles and corsets, in combination with healthy habits, can get you to your pre pregnancy body again.
Why Girdles And Corsets Are The Best Investment For The Postpartum Belly
1. Support Abdominal Muscles And Aid In Diastasis Recti Recovery
By your third trimester, your uterus stretches to the size of a watermelon. Taking up space from your pubic area all the way up to the bottom of your rib cage to accommodate your growing baby. To make room, your organs displace, and your abdominal muscles stretch.
Diastasis recti is common in pregnant women. Your six-pack muscles separate at the midline, drastically weakening your core, giving you the appearance of an extra saggy belly, even after you lose the baby weight.
To repair the damage of diastasis naturally, you need to strengthen your core postpartum. As soon as you get the green light from your doctor to begin exercising (6 – 8 weeks after delivery), wear your postpartum girdle during your exercises to provide your core with the stability it needs to keep proper form during your workouts.
2. Waist Training Improves Your Posture
This is one of the oldest tricks in the books — improving your posture results in a slimmer appearance.
How? When your back is hunched over, you're compressing your midsection, accentuating undesirable excess flab.
A proper fitting belly binder hugs your belly all the way up to just below your bra line. This helps to keep your back upright and straight. Your shoulders will naturally pull back to sit overtop of the hip joints, which activates your ab muscles.
A waist trainer not only trains your waist, but it teaches your body how to stand in alignment for great posture.
3. Compression To Reduce Inflammation
Compression therapy involves applying steady pressure to a sore or painful area to increase blood supply. This increased circulation can promote healing, reduce blood clotting, and minimizes painful swelling and inflammation.
You can attribute a lot of your bloating to water retention and swelling. All Bellefit garments are FDA-approved and provide medical-grade compression to support healing day and night.
How To A Shop For Post-Pregnancy Girdles
While belly wraps definitely have a place in the healing process after giving birth, you'll get the best results with a high-quality postpartum girdle or corset.
Here are some key factors to look for while you're shopping online or in-store for a girdle.
Look for breathable and flexible materials — for the best results, you should wear your garment around the clock. The material matters for your comfort.
Adjustable hooks and straps — your body will undergo a lot of changes after pregnancy as you readjust to your pre-pregnancy size. Look for a corset that offers multiple levels of compression to support your body as you change.
Ease of use — You don't want to fight with your garment every time you get in and out of it (who has the energy for that?). Make sure your girdle is easy to put on and take off with easy zipper opening and non-fuss clasps.
C-section friendly — If you had a c-section, check to see if the retailer has options in their garments that protect your c-section incision, such as padded zippers.
Accessible crotch opening — Especially after the first few weeks, you can expect a lot of leakages. A garment with easy access to your crotch allows you to add heavy flow pads and use the bathroom without having to remove the whole girdle.
Medical-grade — There are a lot of brands on the market selling waist trainers, belly bands, belly wraps, and trainers for women. Most of these are purely cosmetic. Medical-grade compression will provide the best benefits for compression therapy and is designed for the postpartum belly.
Bellefit has the most extensive collection of FDA-registered post-pregnancy girdles and corsets from sizes XS – 3XL, which makes it easy to find a style and size that suits your postpartum recovery needs.
Bellefit's Eight Girdle Styles And Key Features
Girdle Style
Features
1. Corset
• Full rear coverage
• 3-row adjustable front hooks
• Adjustable crotch opening
2. Dual-Closure Girdle
• Full rear coverage
• 3-row adjustable front hooks
• Convenient padded side zipper
• Adjustable crotch opening
3. Cheekster Corset
• Cheekster panty
• 3-row adjustable front hooks
• Adjustable crotch opening
4. Bodysuit Corset
• 3-row adjustable front hooks
• Full rear coverage
• Open-bust bodysuit
• Adjustable & removable shoulder straps
• No boning
• Adjustable crotch opening
5. Corset Thong
• 3-row adjustable front hooks
• Thong style panty
• Adjustable & removable shoulder straps
• Adjustable crotch opening
6. Girdle with Front Zipper
• Padded zipper
• Full rear coverage
• Adjustable crotch opening
7. Girdle with Side Zipper
• Padded side zipper
• Full rear coverage
• Seamless front
• Adjustable crotch opening
8. Girdle Pull-Up
• Slip-on design
• Full rear coverage
• Seamless for discretion under clothing
• Adjustable crotch opening
If you're looking for a panty-less option, like a traditional belly wrap would provide, Bellefit has a collection of abdominal binders and corsets for you with the same, high-grade compression and design comfort.
Bellefit moms have experienced significantly comfortable and faster post-delivery recoveries wearing their garments.
Some of the success stories from our moms include:
Decrease in dress-size
Boosted confidence in their clothing
Can more comfortably carry their babies
Feel stronger and secure
Relieves lower back pain
Of course, every pregnancy and body is different, but you can rest assured that each Bellefit garment is designed with your needs in mind.
We hope we've given you some ideas for ways you can give yourself a luxurious spa experience from home, along with how to shop for a high-quality post pregnancy girdle.
Ultimately, the best investments for your health involves showing your body gratitude for what it has accomplished. Taking time for self-love is beneficial for your health, and your family will thank you for it.
Oct 18, 2017

Category:

News