Giving Birth at Home – Pros, Cons, and is it right for you?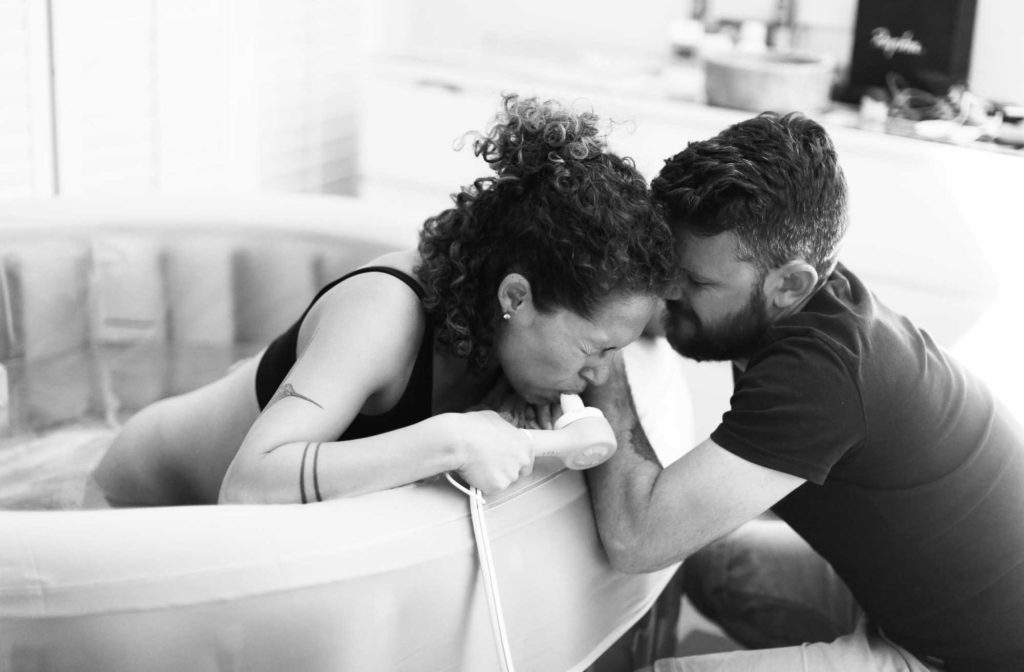 Giving birth at home has become much more popular in recent years, and many women are choosing a home birth over going to the hospital. There are many different factors to consider before deciding if giving birth at home is right for you. In this article we will give you everything you need to know in order to make an informed decision.
What is a Homebirth?
For centuries women have been giving birth in their homes. It wasn't until the 1900s, as modern-day medicine improved, that women began to move to hospitals to give birth. As our collective knowledge of labor and pregnancy increases, women are beginning to feel comfortable giving birth at home again.
There are many misconceptions about giving birth at home that have pervaded our understanding. A home birth is a vaginal delivery without the use of medication. A home birth involves the support of a trained professional, a midwife or a nurse-midwife, who helps safely deliver the baby. Many mind-body techniques are used to help aid the mother in reducing pain and having an easy labor and delivery.
Is giving birth at home right for you?
While a homebirth may seem like an enticing option there are a few things to consider before making a decision. For some women, giving birth at home is not an option.
Women are not recommended to have a home birth if they:
Are diabetic

have preeclampsia

experience high blood pressure

are at risk for preterm labor

have had a cesarean section in the past

Are carrying multiples
These conditions make it difficult for the mother to have a safe and healthy labor at home.
A home birth may be right for you if you:
have a healthy, low-risk pregnancy

want to avoid medical intervention (pain medication, labor augmentation, or labor induction)

Want to give birth surrounded by family and friends

Have cultural or religious concerns

Or want a less expensive labor
What to expect when giving birth at home
There are many misconceptions about giving birth at home, but here is what you can expect.
Before Labor
Before you are close to your due date, you will want to reach out to a midwife to formulate a birthing plan. This plan will detail where you want to give birth, who you want to be with you, how you want to reduce discomfort, and how you will handle complications/emergencies. You will both work together to have a physician on call in case you need to go to the hospital. Your midwife will also let you know what supplies to have available and how to prepare for your birth at home.
During Labor
A midwife will come prepared once you go into labor, and will guide you through the delivery process. Unlike many people believe, a midwife will have medical supplies necessary to deal with any birthing needs. Typically a midwife will bring pharmaceuticals, oxygen, IVs, equipment necessary to monitor and record vitals on both mother and baby, and other first aid equipment. In addition midwives are trained to use various other medical instruments that may be necessary during birth.
After Labor
Your midwife will be trained to take care of your baby post-delivery – including administering medications, or even how to perform a full resuscitation. Your midwife will also be able to guide you through the breastfeeding process, and teach you the basics you will need to know for them to fully latch on. You should keep your physician in the loop on your birthing plan and inform them once the baby is born.
Home Birth Options
When people think of giving birth at home they typically tend to think of a water birth. And while many women do have a water birth at home, some women choose not to. One of the benefits of having a home birth is being able to decide where you want to have your baby. If you want to have it on the floor, in the bathtub, on your bed, or even your couch. The whole objective of a home birth is to make you as comfortable as possible.
Pros of a Home Birth
Now that you know the basics of a homebirth, let's talk about some of the reasons women choose to give birth at home.
Don't have to worry about transportation to and from the hospital

All the comforts of your home are readily available to you throughout the entire labor and delivery process – including snacks, clothing, a shower, and your bed.

The transition into breastfeeding and recovery is much smoother and more relaxed.

You can have whoever you want come to the birth.

May be easier on your bank account.
Cons of a Home Birth
There are so many pros of giving birth at home, but there are also a few cons.
If the labor doesn't go according to plan, hospital transportation will be necessary. Typically in these cases a "Plan B" has already been discussed so there should be no problems getting to a hospital.

Not a good option if you do not have a low-risk pregnancy.

Some women are not comfortable with giving birth at home and would have less anxiety about the delivery if they knew they would be in a hospital.
Postpartum Care
Unlike a typical hospital birth, postpartum care with a home birth is more frequent and personalized. A hospital usually requires a 48-hour stay and then sends you home with your new baby and no additional help. When you give birth at home, a midwife will come over multiple times in the first few weeks postpartum to check up on you and the baby. That way they can address any concerns or problems you may have.
Postpartum care is essential when it comes to your health and your baby's health. That is why Bellefit has created the best postpartum girdle around. Our postpartum girdle is made with medical-grade compression fabric and is designed to help you heal faster and with less pain. Don't believe us? Check out our testimonial page to see just how much Bellefit's postpartum girdles have helped.
We hope that this guide to giving birth at home was helpful and gave you all the information you need to make an informed decision about your birthing plan.
Aug 13, 2020

Category:

News