What is a Post Pregnancy Girdle?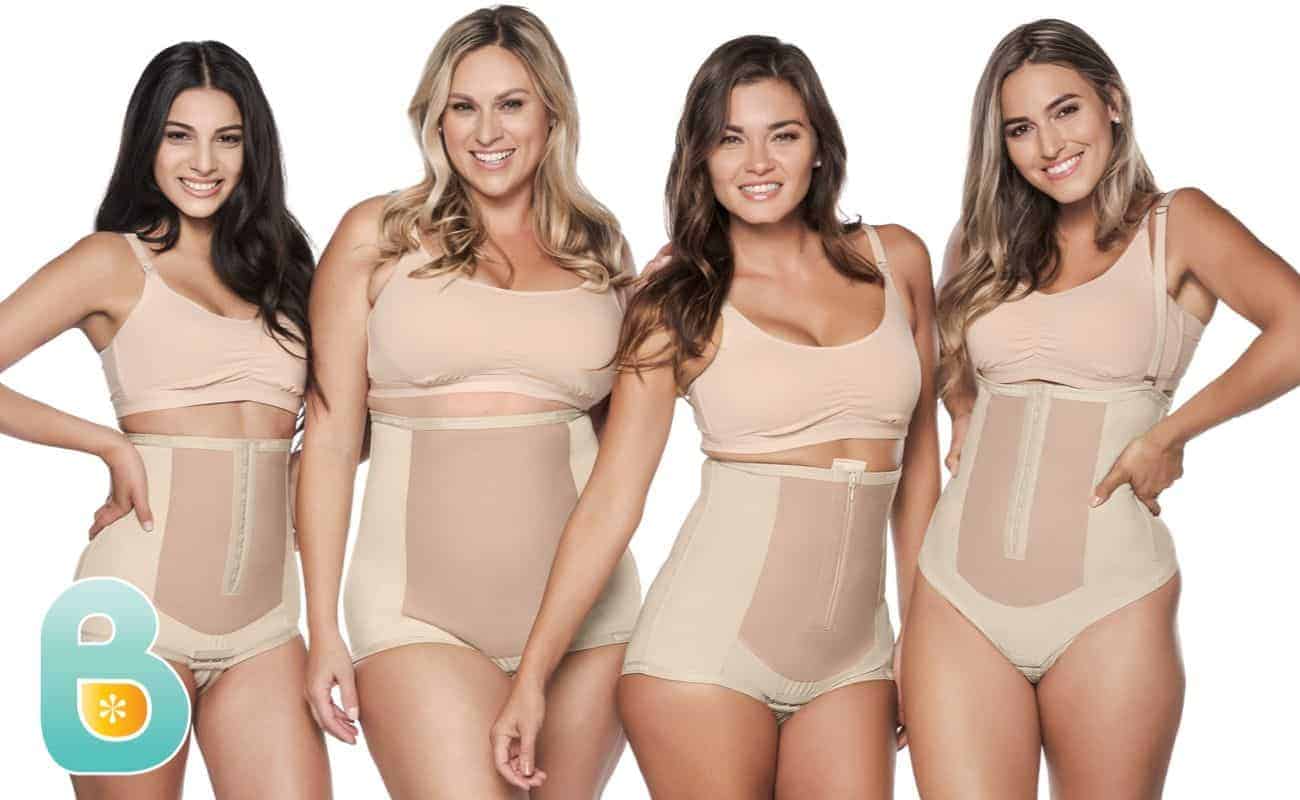 A post-pregnancy girdle is a compression garment that a mother wears tightly around the belly following the delivery of her baby. The garment should fit quite snugly around the abdomen to maximize the benefits of compression, such as increasing blood flow, improve posture, and support the abdominal muscles — but it shouldn't be so tight that it restricts movement and breathing.
In this article, we'll get into the common questions surrounding postpartum girdles, including the history, safety, and differences in garments.
Summary: Postpartum Girdles
It's a specialized garment to help restore tone and firmness to a postpartum belly
Adds extra protection for c-section incisions
Girdles can also be worn by women who are recovering from abdominal surgery such as a hysterectomy or tummy tuck
Modern-day, FDA-approved girdles are considered safe to wear after pregnancy and are recommended by health care professionals to support recovery
There are many girdle styles to choose from — we'll cover each style in this article and alternatives on the market
A Very Brief History On Corsets And Girdles
The Kim Kardashian certainly wasn't the first to trend-set a trim waistline with shape-wear. The corset goes as far back as the 16th-century in Europe. At the time, waist trainers were worn by women to train the torso into a cone-shape, making the waist dangerously petite.
These pre-modern trainers aren't anything like what we have today. They were made from stiff fabrics, wood, and even iron — quite a far cry from comfort. To get this fashionable coned-shaped body, women wore these waist trainers extremely tight — breaking rips, displacing organs, and causing permanent damage.
Thankfully, our shape-wear have come a long way since then. Now that we understand more about the human anatomy, it turns out, compression around the torso is beneficial to healing after baby delivery— as long as it's not rib-breaking tight — while still offering the benefits of shaping the body to a slimmer physique.
Who Should Wear A Girdle?
While the Bellefit girdles are built to support a postpartum body, women who undergo surgery for tummy tucks or a hysterectomy can benefit from wearing a medical-grade corset.
Here are reasons one may need a medical-grade compression garment:
Childbirth recovery (c-section or natural deliveries)
Reduce abdominal swelling and fluid retention after birth
To improve posture, reduce back pain, and increase mobility
Women with diastasis recti to strengthen the core
Use it as a waist trainer to feel supported while exercising
Wear it as shape wear to smooth and firm the silhouette
How Long Does A Girdle Help After Pregnancy?
How long you should wear your girdle depends on the complication of your recovery and how you intend to use your garment.
For example, no compression garment will make you shed baby-weight, but it can be an essential tool to help you lose that stubborn belly fat.
Postpartum girdles with medical-grade compression help improve posture and support the core, which increases your mobility and stability in movement, so you can get into your workouts sooner.
Ultimately, a healthy, well-balanced diet, regular exercise, and stress management will be the critical factors for weight-loss, but a waist trainer can make sure you're supported along the way.
Photos of Women Wearing Postpartum Girdles
Postpartum Belly Wrap Vs. Postpartum Girdle
As we mentioned earlier, your hospital may provide you with a belly wrap after delivery to ease your comforts. The purpose behind the belly wrap is similar to that of girdles — provide therapeutic compression around the torso to increase blood flow, promote healing, and reduce symptoms of pain and swelling.
The belly wraps provided by the hospital are usually made from adjustable elastic and held together with velcro — it's not the sturdiest or most comfortable material either. Still, it will protect your incision and increase comfort after surgery.
A high-quality postpartum girdle is made from breathable and flexible fabrics that wrap around the torso and supports the bottom and crotch for a more enclosed garment. Thanks to the design of the girdle, it provides a stronger level of compression and is more comfortable to wear underneath clothing.
A belly wrap is an OK alternative to a girdle temporarily — for the best results in compression therapy and support after baby arrives, invest in a high-quality postpartum support girdle.
Belly Wraps
Girdles
• Wraps around the torso
• Made from bulky material
• Can easily become displaced
• Velcro fastening
• Wraps around the torso, crotch, and butt for full support
• Feels more secure and is not easily displaced
• Made from flexible, breathable material
• Is more discrete underneath clothing
• Higher level of compression
Should I Get A Belly Band?
This is another support garment you've probably heard floating around in the maternity world. Let's quickly cover it now.
You can find belly bands for pregnant bellies and for the postpartum belly. They're essentially tube-like, elastic garments worn around the torso to smooth and slim the stomach and waist so you can fit into clothes you've outgrown.
A belly band is more of a cosmetic undergarment to help trim the waist for aesthetic purposes rather than for therapeutic compression. And while a belly band can be a welcome addition to your wardrobe (they're generally inexpensive), you can get more use out of a girdle or a high-quality binder.
If you're looking for a panty-less binder style to define the waist and flatten the belly, Bellefit's abdominal binders and waist trainers are excellent choices that offers more support than a belly band or a belly wrap.
Benefits Of Wearing A Postpartum Girdle
The benefits of postpartum support garments are valued in cultures all over the world. Let's highlight some benefits of wearing a compression garment for the postpartum belly.
Compression promotes blood supply to the affected area to support faster healing
Reduces uterus swelling with steady pressure and expels fluid
Offers lower back support and abdominal stabilization to relieve back pain
Can also help you fit into your pre-pregnancy clothes comfortably during postpartum recovery
Protects c-section or other surgical incisions
Get back to exercising sooner to strengthen the core and treat diastasis recti
Improve posture, allowing for deeper breathing
Adjustable crotch openings offer convenient access to the washroom and can be lined with heavy flow pads for leakage
Watch the video below to learn how Anella recovered with a post pregnancy girdle after her fourth pregnancy.
Bellefit Girdle Styles And Features
Now that we've gone over the other styles of postpartum compression underwear, we can get into discussing the girdle styles Bellefit offers. Bellefit has the most inclusive selection of postpartum belly girdles with eight styles in sizes XS – 3XL.
Girdle Style
Features
1. Corset
• Full rear coverage
• 3-row adjustable front hooks
• Adjustable crotch opening
2. Dual-Closure Girdle
• Full rear coverage
• 3-row adjustable front hooks
• Convenient padded side zipper
• Adjustable crotch opening
3. Cheekster Corset
• Cheekster panty
• 3-row adjustable front hooks
• Adjustable crotch opening
4. Bodysuit Corset
• 3-row adjustable front hooks
• Full rear coverage
• Open-bust bodysuit
• Adjustable & removable shoulder straps
• No boning
• Adjustable crotch opening
5. Corset Thong
• 3-row adjustable front hooks
• Thong style panty
• Adjustable & removable shoulder straps
• Adjustable crotch opening
6. Girdle with Front Zipper
• Padded zipper
• Full rear coverage
• Adjustable crotch opening
7. Girdle with Size Zipper
• Padded size zipper
• Full rear coverage
• Seamless front
• Adjustable crotch opening
8. Girdle Pull-Up
• Slip-on design
• Full rear coverage
• Seamless for discretion under clothing
• Adjustable crotch opening
To Wrap Up: What Is A Post-Pregnancy Girdle?
We've gone over the different types of shape-wear for postpartum women and briefly touched on the history of corsets, and how the modern waist trainer has come a long way since then.
A high-quality postpartum girdle is more than slimming underwear — it has high-grade compression to increase blood flow for speedy healing, support the ab muscles and back for stability, and relieves pain.
This garment is hard at work, so that mom can spend more quality time with the baby and get back to feeling like her normal self again sooner.
Bellefit has the most extensive range of postpartum girdles to choose from that are not only discreet under clothing but provide comfortable, medical-grade compression needed to get the most health benefits.
Jul 11, 2016

Category:

News